Note from Dan: This guest post written by my blog editor Alex Morrison, who serves as Digital Communications Director at 12Stone Church. He's a social media genius and a great student of leadership here at the church.
---
Successful churches have a unique personality and culture. Church leaders: In order to stand out and be effective on social media your church's voice should be unique as well.
It's important to invest a considerable effort into developing your brand. At 12Stone Church, we believe that in order to reach the most people for Christ in our local area, a strong brand is necessary to make a stand. A strong (trusted) brand is consistent, authentic, and executes with excellence and character. Click & Tweet!
Just like developing and protecting a brand mark (logo) and style guide, we must do the same for our social media voice!
Digital Voice Should Match Sunday Stage
On Sundays, your stage announcers and speaking pastors have a certain style. Your social media voice should align up with that! If they lean into humor, your social media should too. If your leaders value sarcasm like we do, use it! Use the same language, vocabulary, and references.
A strong brand is a trusted brand.
Keep It Real, Don't Be Robotic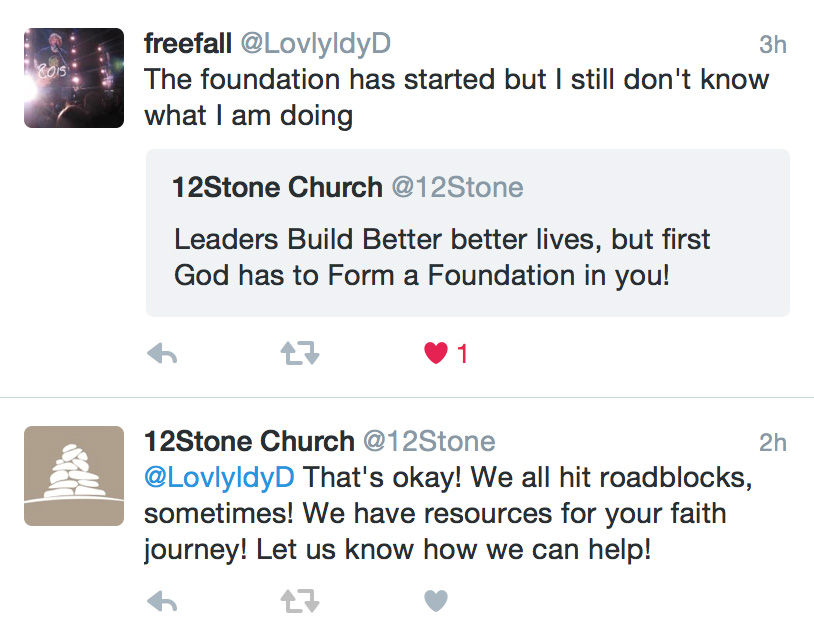 You and your followers are all real people that operate much of the day in a digital environment. Let your social media followers see that you're real by being as social as you can, by being human!
If you make a spelling mistake on social media, own up to it and correct it publicly. Don't delete and hide!
If someone asks a question, respond in a real way and go out of your way to help them. If it helps, picture them walking into your church lobby and asking the same question. How would you respond?
Pay attention to how brands are bringing personality to their feeds. Learn the art of using emojis and GIFs!
Don't Be Reckless
Going to the other side of the "fun" spectrum, we as stewards of God's church need to be careful with what we say. We can't be reckless. Every piece of content published could show a potential visitor a glimpse of who your church is Click & Tweet! (and ultimately how you represent Jesus).
Use the gut check test. Ask yourself – can this post be taken out of context and used against us? Will a niche group be offended?
If you're on the fence about publishing something, just don't do it. Wait. Give it a night's rest and a fresh pair of eyes. Don't submit to the artificial pressure of needing to post "all the time". That type of hurry will cause unnecessary mistakes.
More Listen, Less Talky
Drop the agendas. Click & Tweet! Your only agenda on social media should be to engage with what God is doing amongst the church. Stop asking them to sign up for that event or newsletter. Ask more questions than declarations. Listen to what people are saying and respond!
Sidenote: All stats can be useful, but choosing which ones to focus on matters. When deciding how to measure the success of social media, tap into engagement metrics, not reach. Observe retweets, not followers. Measure shares, not views.
Social Media Heart + Humor
On social media, stick to humor & heart. People are not on social media to be bombarded with events and invites. They're resting and "checking out" from the busyness of normal life for a few minutes (or hours). Be refreshing! Stop contributing to the noise. At 12Stone, we share stories, humor, strategic information, and contextualized next steps in people's faith journey.
What our social media is NOT: a community bulletin board, campus event calendar, fundraising wall, or marketing machine.
…That moment when you realize how awesome Jesus is in the middle of worship. pic.twitter.com/cfgnWCq4TZ

— 12Stone Church (@12Stone) February 22, 2016
---
I believe social media is one of the greatest opportunities the Church has today to reach more people for Christ. But in order for us to be effective on social media, our social media "voices" have to stand out by being unique, real, fun, and engaging.
Is your church on social media? How do you craft your social media voice? I'd love to connect! Leave a comment below with links to your church's accounts. Feel free to also ping me anytime on Twitter: @Alex_Morrison